The New BCAA From Force Factor
Maintaining the size and muscle strength gained through tough workouts and dedication isn't an easy task without proper supplementation.  You could eat a ton of food and still not get the right amount of build blocks to keep your muscles in an anabolic state.  Not to mention, it can become quite pricey!   Branched chained amino acid supplements can help prevent your muscles from slipping into a catabolic state due to dieting and grueling workouts. Fortunately, the trusty group from Force Factor has released a new product: Force Factor Pure BCAA  
What Are BCAAs?
Brain chain amino acid (BCAA) is a type of amino acid that helps build protein. Not all amino acids are the same – each serves a unique purpose. BCAA has its own significance too. BCAA can be categorized as leucine, valine, and isoleucine. These make up close to 35 percent of all amino acids constituting the human skeletal muscle. All these amino acids cannot be synthesized by the body – they have to be administered through food or supplements.
BCAAs assist directly with muscle recovery and hypertrophy.  According to a 2010 study, BCAA supplementation helped decrease muscle soreness. BCAA supplements, for endurance athletes, has proven to augment the lactate threshold. This is the point where training doesn't use your oxygen systems for fuel.
How Does Force Factor Pure BCAA Work?
Unlike most other muscle enhancers available for purchase, Force Factor Pure BCAA takes a totally different route. To facilitate optimal strength and growth, the product employs pure BCAA. As aforementioned, BCAA helps during fitness sessions. The constituents of BCAA present multiple benefits, starting with improving the strength, impact, and quality of the body's cells. When cells gain increased strength, they get better at supporting muscles, tissues, and various other body parts. This results in the body getting equipped with required structural elements for substantial improvement.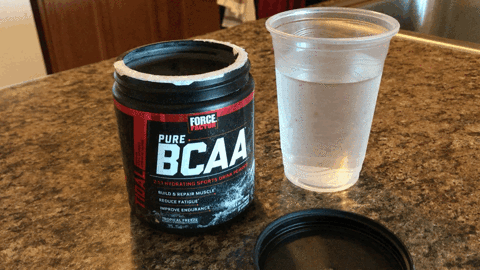 What Are The Ingredients In Force Factor Pure BCAA?
Pure BCAA, staying true to its name, packs in good amount of BCAA with every serving – five grams, to be precise. Besides BCAA, there are a range of electrolytes and many other potent substances making up the supplement.
Company Review: Force Factor
Force Factor is a health and bodybuilding supplement company that is known for high-quality health and nutrition supplements. People who have been in the fitness industry for at least a few months would have definitely heard about the company. It's been making health supplements for decades, which has earned it the recognition of leading the muscle-building and sport nutrition supplements industry.
What Else Does Force Factor Make?
Force Factor, as mentioned earlier, is a renowned name in the bodybuilding industry, and earning such recognition won't be possible if the company was into selling only a product or two. The company sells everything from testosterone boosters, nitric oxide boosters, intra-workout powders, pre-workout powders, daily nutrition products, etc.  They also sell gym t-shirts and shaker bottles!
The Delicious Flavors of Pure BCAA
As far as the flavors go, there are quite a few Pure BCAA options: arctic gumball, tropical freeze, electric lemonade, cranberry splash, and berry smoothie (according to Stack3d.com). So far, we've only seen Artic Gumball, Electric Lemonade, and Tropical Freeze (which all are really good).  More flavors may get added to this list in the future.
Will Pure BCAA Work For You?
Force Factor Pure BCAA is yet to be released although you should see it available online and in stores shortly.  A few of supplement sites have gotten their hands on Pure BCAA so far and, according to the reviews, it appears this BCAA is very potent.
Check out some of the first reviews here:
Conclusion: Force Factor Pure BCAA
Force Factor Pure BCAA would most probably take the bodybuilding world by storm since the ingredient makeup of the supplement sets it apart from the competition. Pure BCAA is made of high-quality ingredients that are natural and formulated in the ideal 2:1:1 ratio. And since the product is from the stable of Force Factor, which is known for reliability and efficacy, it's likely that Pure BCAA would end up being one of their several best-selling products.
Key Take-Aways
Build and repair hard earned muscle
Reduce fatigue from workouts
Improve athletic endurance
Darius Vaughn
Force Factor Pure BCAA Review – Fuel Your Workouts!
The New BCAA From Force Factor Maintaining the size and muscle strength gained through tough workouts and dedication isn't an easy task
Pure BCAA Review

Rating

Summary

Pure BCAA from Force Factor is the ideal combination of ingredients in the perfect ratio 2:1:1 of L-leucine, L-isoleucine and L-valine. This product tastes great and mixes easily; leaving you with minimal to no clumps.

All in all this is another great product from Force Factor.

0

(

0

votes)
: