Force Factor Fuego is designed to help users supercharge their physical performance and bolster endurance. To gain lean muscle mass, individuals need proper nutrition and supplementation plays a key role in this regard. Pre-workout formulas provide a viable way to boost energy. Force Factor has formulated a powerful supplement designed to satisfy these needs. A new pre-workout known as "Fuego" is positioned to be Force Factor's leading pre-workout powder.
Force Factor Fuego will make it easier for athletes, bodybuilders and fitness enthusiasts to achieve their goals by improving endurance, focus and strength. Fuego is a potent pre-workout that is going to help you take your workouts to the next level. The supplement's advanced formula is based on two proprietary blends, both of which help boost strength and endurance.
What Ingredients Are In This Pre-Workout?
Force Factor Fuego leverages the power of BioPerine (black pepper extract) to boost the formula's efficacy and absorbability. This helps increase the effectiveness of the two main blends of ingredients, the Firestarter Energy Complex and the Strength and Performance Matrix.
Firestarter Energy Complex
L-Tyrosine – An amino acid used to improve dopamine and adrenaline production
Caffeine Anhydrous – Raises metabolism and energy levels
L-Theanine – An amino acid typically used to treat anxiety and reduce stress
TeaCrine® Theacrine – A natural energy supplement that helps increase focus
Toothed Clubmoss – A natural herb that can help sharpen memory
Strength and Performance Matrix
L-Citrulline – A non-essential amino acid that increases production of nitric oxide to achieve better circulation
PeakO2® Blend – Clinically tested to increase endurance and performance in 3 weeks.
Taurine – Natural energy booster
What Flavors Does Fuego Offer?
Flavor is an important part of any pre-workout.  Fortunately, Force Factor has some great options to choose from.  These include Blue Razz, Fruit Punch and the Arctic Gumball.
What Else Does Force Factor Make?
Force Factor is well known for its impressive range of innovative products. The company's selection of supplement include:
Nitric Oxide Boosters – Force Factor, VolcaNO and Factor 2
Testosterone Boosters – Test X180 series comprising five different products
Pre-Workout Powders – BRX, VolcaNO Fury
Thermogenics – Ramp Up and LeanFire XT
Intra-Workout Powders – Cannabol
Post Workout Recovery – GainZzz
Test X180 Ignite is a fat burner and a testosterone booster designed to give users the much-needed spark. The product contains the natural fenugreek seed extract Testofen to boost libido and free testosterone.
LeanFire XT is one of Force Factor's top performing products. It helps users burn fat and sculpt an impressive physique. The supplement comes with a powerful fat-burning thermogenic complex and Metabolic Mind Matrix.
When Will Force Factor Fuego be available?
The supplement will be released to the public sometime in August 2017 according to SupplementPolice.com.  Keep checking GNC and ForceFactor.com for availability.
Where to Buy Force Factor Fuego?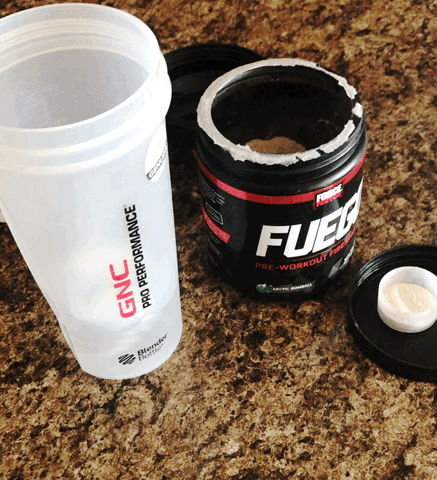 Fuego will be available on Amazon and the official Force Factor website. When it comes to physical stores, Fuego will be exclusively available in GNC stores.
Conclusion: Our Thoughts on Fuego Pre-Workout
Fuego is a practical choice for anyone looking to energize his or her workout. It is manufactured by an award-winning company whose founders are Harvard University graduates.  Its formula and mechanism of action differs from traditional energy boosters available on the market. To take advantage of the product's powerful formula, users need to mix a single scoop of the powder with cold water and get ready for an intense workout.
You can also choose the ideal flavor to suit your specific taste.  Our favorite is Artic Gumball!  Each of the available flavors comes with sufficient powder to create up to 20 servings. The Fuego supplement is expected to cost $34.99, which is an awesome price.
Key Take-Aways
Amplify Focus and Clarity
Boost Strength and Endurance
Harness Unstoppable Energy
Darius Vaughn
Force Factor Fuego Review – Supercharge Your Workouts
Force Factor Fuego is designed to help users supercharge their physical performance and bolster endurance. To gain lean muscle mass, individuals need
Excellent Pre-Workout

Rating

Summary

We were pleasantly surprised with the effectiveness of Force Factor Fuego. Most pre-workouts leave you wondering if they're even working. Within minutes, Fuego has gotten us amped for our evening trip to the gym. Whether you're running, lifting or prepping for a sport, be sure to include Fuego in your daily routine.

3.5

(

1

votes)
: